The window regulators in Chrysler products used leather washers and plastic bushings.
After years of service, the original washers and bushings are often worn or missing.
Replacement washers and bushings are now available from the address shown below.

Leather Washers
The leather washers correspond to part number 6000141 and was used from 1957 to 1964.
Some parts books specify two leather washers on each regulator while some specify four washers per regulator. Others say the washers are used "as required" with no specific quantity per car.

This leather washer is also used in the tailgate window regulator (4 per car) and in the Imperial convertible top mechanism (4 per car).

Installation hint: Saturate the washer with white grease and start it on the stud with finger pressure. Press the washer down on the stud by using a small 7/16" socket with finger pressure.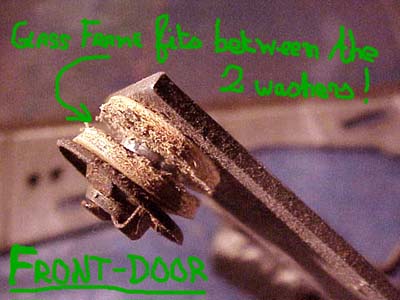 These pictures are from a 1960 model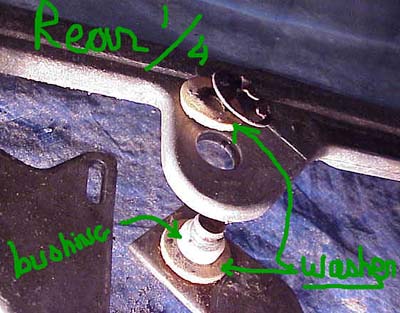 Bushings
The bushings correspond to part number 2166511.
Two bushings are used on each each rear regulator (1960 to 1964) on coupes only.
No bushings are used on convertibles.
The bushing is not used on the front regulators.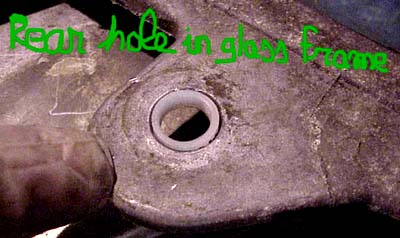 These pictures are from a 1960 model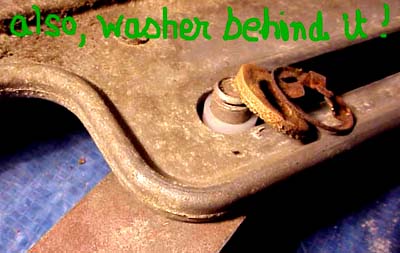 Washers are US $1.25/each.
Bushings are US $1.25/each.
You can order any quantity of either item.
Minimum order: $25.00
Add $5.00 per order for shipping within the US.
Send check or money order (no credit cards) to:
Bob Merritt
P. O. Box 279
Auburn, NY, 13021
Email: bob@simplexco.com



Application Table
| | | | |
| --- | --- | --- | --- |
| Year | Model | Washers | Bushings |
| 1957 300C (*) | Coupe | 8 | 0 |
| 1957 300C (*) | Convertible | 8 | 0 |
| 1958 300D (*) | Coupe | 8 | 0 |
| 1958 300D (*) | Convertible | 8 | 0 |
| 1959 300E (*) | Coupe | 8 | 0 |
| 1959 300E (*) | Convertible | 8 | 0 |
| 1960 300F | Coupe | 16 | 4 |
| 1960 300F | Convertible | 4 | 2 |
| 1961 300G | Coupe | 16 | 4 |
| 1961 300G | Convertible | 4 | 2 |
| 1962 300H | Coupe | 16 | 4 |
| 1962 300H | Convertible | 4 | 2 |
| 1963 300J | Coupe | 16 | 4 |
| 1964 300K | Coupe | 16 | 4 |
| 1964 300K | Convertible | 4 | 0 |
(*) = electric windows only



1957 - 59 Dodge, Plymouth, and DeSoto 2dr HT & convert (elec. windows only)
use 8 washers per car and no bushings.
For 1957 - 59 Dodge, Plymouth, and DeSoto 4dr HT's with electric windows,
use 16 washers per car and no bushings.



Back to Index Page
last revised July 2017